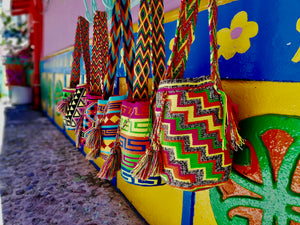 Connecting you with Colombia's Indigenous Artisans, and their Traditions.
Celebrating fair trade, and giving back with every item purchased from our two collections.
The Wayuu Collection features handmade and fair trade purses , handmade clutches, bracelets and pouches made by Artisans of the Wayuu Indigenous Group, an indigenous group led entirely by women and sustained through a tradition of weaving. Each of the items in The Wayuu Collection was purchased directly from its maker, and is one-of-a-kind - you'll never find two Wayuu products that are alike!
Hands of Colombia also works with a family-owned leathershop in Bogotá to produce handmade leather guitar straps in small batches. Each strap features a handmade Wayuu design.
We have only one of each item on our site!
Wayuu Handmade Collection
---
An Indigenous group led entirely by women: The Wayuu
The Wayuu (pronounced "WHY-you") are more than just an indigenous group, but a tale of survival and feminism. A tried led completely by women, living in one of South America's most unforgiving deserts, whose tradition of knitting is identity, livelihood and beauty.
Read more - WHO ARE the Wayuu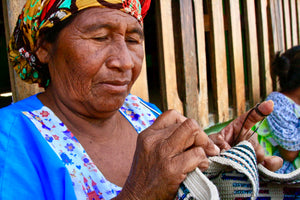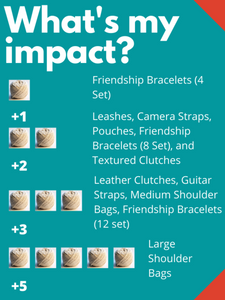 Giving back with every purchase - hands of colombia thread giving pRogram
Every time you shop with Hands of Colombia, we donate thread to Wayuu Artisans living in the isolated Guajira Desert. Empowering traditions and fueling creativity is our way of saying Thanks.
Read more - Thread Giving Program
Meet Carolina, one of the Wayuu Artisans working with Hands of Colombia
---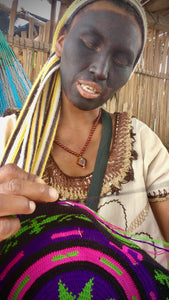 did you know? wayuu artisans spend up to 14 days making a single bag.
A craft of dedication and patience, a Wayuu artisan will spend up to 14 days crocheting a single bag, depending on the complexity of its pattern and size. However, even the simplest bags can take several days to complete.
Respect and fairness - our bottom lines
With a full commitment to fair, respectful and ethical trade, we operate under strict guidelines with the goals of both serving our customers, and our artisans.
Read more - our commitment to fair trade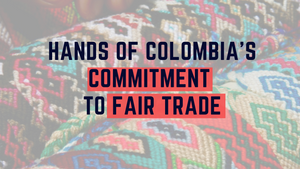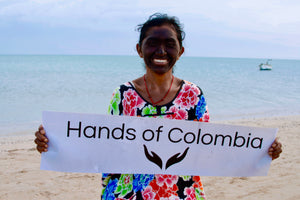 Why do the wayuu paint their faces?
At first glance, it may look daunting - but the reasons behind Wayuu Indigenous face painting may surprise you...
Read More - Wayuu face painting
Meet Valentina, one of the Wayuu Artisans working with Hands of Colombia
---
Meet Valeria, one of the Wayuu Artisans working with Hands of Colombia
---