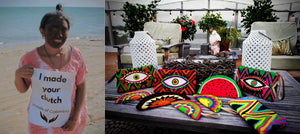 Wayuu Handmade Clutches
---
The Hands of Colombia Handmade Clutches are unique and Fair Trade.  Using a punch embroidery technique, Wayuu Artisans share the scenes from the landscapes that surround them and the legends they've shared for generations. 
Our Textured Clutches are soft and feature their unique Wayuu Handmade pattern on the front and back. 
Our Leather Clutches elegantly feature a unique Wayuu Handmade pattern, and have full leather backs.